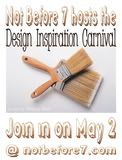 Mary at
Not Before 7
is hosting a Design Inspiration Carnival this weekend. Home decorating is really not my strength. Many of my projects lie unfinished, victims of the tyranny of the urgent that is life as a homeschool mom.
But I enjoy my boys' bedroom. Even though it is not very polished, lacking some finishing touches. But I like what it represents in our family:
letting them grow up
.
When baby #5 was born, we knew that we'd eventually be bunking up all three of our boys in one room. We shopped extensively for just the right set of bunk beds and found a very flexible set with a trundle that could be placed in a number of configurations and still get 3 beds. They were gorgeous stained wood. They were also very expensive. We resigned ourselves to the cost, and I enjoyed the thought of creating a very traditional boys' room with plaid comfortors, stained wood, and antique toys as accents.
But then... we went to Ikea. And the boys saw a really cool "room" on display. Very high-tech looking. Very modern. Very different from what I envisioned - but they fell in love. After a quick conference with My Sweetie, we decided to go for it. After all, the big boys were almost 11 and 13 and they were entitled to opinions of their own about the space they live in. The room was cute, and the deciding factor: the entire room cost far less than the other bunk beds cost just for the beds.
So now I present our "cool" boys' bedroom:
Three of the walls are painted silver. Yes, silver! We used "Jimmy Neu*tron" gray paint as a base and then sponge-painted over it with a metallic glaze. (We're quite proud - it's the only faux paint finish we've ever done.)
The comforters are from Tar*get. They're reversible and the boys enjoy using opposite colors to personalize their space. They are from the same line as A's quilt, but I thought the stripes would be more flexible for boys-growing-into-young men.

The bunk beds and dresser are, of course from Ikea. Both have turned out to be a very good buy. I don't miss the big, pricey wooden ones at all. (I'd probably be constantly stressing about them getting damaged, anyway!)
We also got this little "rail system" (a kitchen towel bar from Ikea with hanging basket and cup) for each of the Big Boys to keep their precious items du jour and and any books or magazines they read at night. (Using the small, wall-mounted lamps in the picture above, also from guess-where!) This system is a hit with parents and boys alike because they have a place for their stash that can be kept neat.
This is A's little corner. His little toddler bed has the quilt from the Tar*get line that matches the boys comforter. The lion blankie and leaf canopy are both from - you guessed it - Ikea. He has his own little basket of books and a little back-pack of "rest time toys" hangs from the headboard.
The picture doesn't do this cute quilt justice - the bed is simply too small. It's a nine-patch style quilt with a different jungle scene on each block. When A graduates to a big boy bed, it will look really precious.
This is our black "accent wall." You have no idea how hard it was for this traditional southern girl to paint.a.wall.black. Yet, it totally works with this room and gives it that little something extra. We got this inexpensive round chair at a crafts store for under $20. Together with a 99 cent tub from our favorite Sweedish store, it makes a nice reading nook for the boys.
These shelves give the boys a place to display things that are precious to them - like Lego creations that take all day to build, yet could be destroyed in 30 seconds in the hands of one of our BLT's (Busy Little Toddlers.)
Lastly, my favorite thing in the room: the window treatment. I bought this fabric for next to nothing and fell in love with the bright colors. I bought an eyelet-making kit and made all the orange ties. It was a time-consuming and often frustrating task, but I absolutely love the result! Paired with some cocoa-colored bamboo shades and the window is one of the most "dressed" in my house!
So that's it. Even though we copied most of the design from a store showroom, we're happy with the results. Now, keeping the room looking this clean is quite another challenge with three busy boys. Especially when everything they're interested in comes with 1,000 small pieces! Don't expect to drop by my house and see the room looking this neat...
For more Design Inspiration, or to post about your own favorite room, head over to
Mary's place.